Discussion Starter
·
#1
·
Well, finally got the KFX out to the dunes this past weekend. It ended up being a great weekend, Sandornothing, shocker, guywiththetruck, and pinkyfz were all there to participate in the testing.
Day1 was a completely stock KFX and Day2 was airbox lid off and baffle out with the PowerCommanderIII installed and mapped for alterations.
Day1:
In stock form this quad is just that, a stock quad. Riding it it was comfortable for me. I am 6'-3. The riding position was narrow and felt like you sat over the quad almost. The quad feels narrow, but then I am used to my wide YFZ. The suspension felt ok. I am a big guy at 300lbs and the shocks were decent for me. The lighter riders of the group thought is was stiff. There was some bump steer, but some of that was taken away with airing down the tires. Most of it could probably be tuned out with suspension adjustments.
Power was ok. It felt like most any other stock quad, very restricted and corked up. The power delivery is extremely smooth and predictable. The fuel injection produces a very usable powerband. The quad does seem to be geared rather low.
Day2:
As I became more comfortable with it, the more I liked it. We removed the exhaust baffle and airbox lid. We then installed the power comander III with the appropriate fuel map. WOW! Big difference. Very nice power delivery. More than enough power for an average rider. I got used the narrowness of it, but it still wants to be wider.
Conclusion:
This is a very nice quad. I thought it was comfortble. The handle bar height was decent for being 6'-3. They did not hit my knees like my stock 06 YFZ did. The quad will benifit tremendously from some +2 a-arms. The rear suspension I think could be tuned pretty well to suit alot of riders.
I really like the power band on this quad. The power delivery is smooth and controlable. The only couple negatives are:
Narrow, needs wider arms.
Tranny and valvetrain is very noisy, but then the exhaust is so quiet you tend to hear alot more.
stock seat is fairly stiff.
Pros:
Great power delivery
great power with a couple simple mods.
Very comfortable overall.
A couple pics from the weekend:
KFX450 with Front Fenders removed: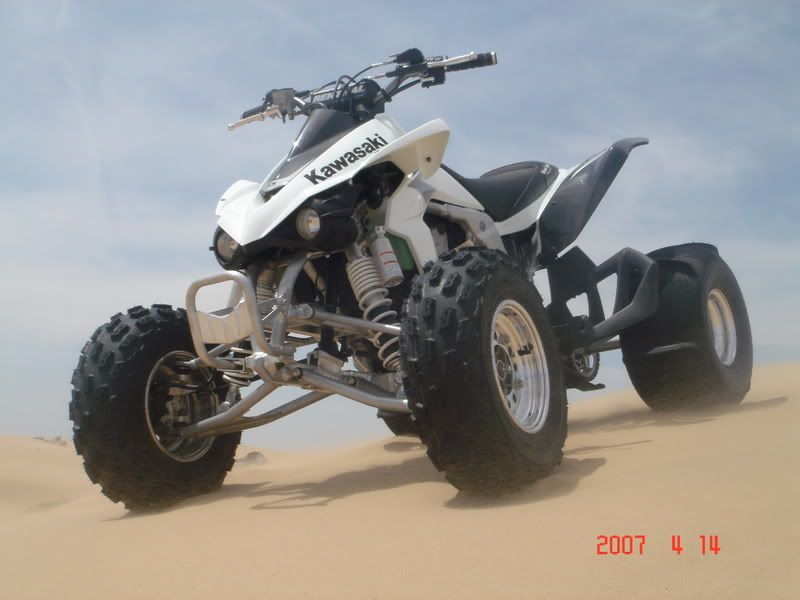 PDR